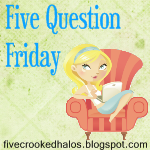 1. Are you a napper?
Funny thing: I used to be. I would even nap in my car, if it wasn't blistering outside, during lunch. And if it was and I was desperate, I would even nap in one of the exam rooms at work. Gross but I try not to think about it.
Anyway, I digress on that. Now I find it hard to nap. New baby...well she's 10+ weeks now. For whatever reason, even if I have nothing to do I can't even find a way to make what everyone tells you - "nap when she naps" - work. Bummer because I sure could use them!
2. What was your favorite subject in school? Most hated?
Favorite - anything science on the anatomy/biology related scale. And even Chemistry wasn't so bad.
Most hated - intro philosophy in college but probably more because of the prof than the actual subject. I don't think I really took many classes I abhored. I enjoy learning. What can I say?
3. Did you have the something old, new, borrowed and blue at your wedding? What were they?
Yes.
Old: my maternal grandomother's wedding set. She passed when I was a wee baby and my mom had them fixed up for me in place of getting a high school ring. One of my favorite gifts to this day :)
New: my shoes. And they were AWESOME!! I would show you but I don't have a photo I can post from my wedding that will give proper credit to my great photographer and I can't find a picture of them online :( But let me paint a picture for you: they were chuck's with the Robert Indiana LOVE design over the ENTIRE shoe in red and the background was blue. Yes. I wore chuck's at my wedding! :D
Borrowed: My mom's pearl bracelet :)
Blue: Though it wasn't completely blue - the garter was Captain America themed and had a blue ribbon through the center with a Captain America Shield pin. My nerd/geek hubby LOVED it (I'll go ahead and pat myself on the back for that one :))
4. What one thing are you determined to do this summer?
Find ways to enjoy the outdoors with my Zo Zo even though I'm sure it will be sweltering. We will probably be seeking the shade of many a tree but she's happy outdoors so I have to find a way without burning my fair-skinned child!
5. Ice cream or Popsicles?
Geez...even my husband saw this one and wondered how I was going to answer. I love them both so much. I guess I'll choose Popsicles this time since summer is quickly approaching... oh wait! Summer came at the end of April in this wretched state that only knows 2 forms of summer: sweltering and enjoyable with "make sure you have an other layer to put on at night".