I couldn't resist. I wanted to do both today. Especially because I have the happiest Frankly Friday ever; at least, for myself I do. So I'll begin with my link up for Frankly Friday.
Amy at Taking Steps Home
hosts this link up and if you don't already know her, you should! She's sweet, genuine, and just an all around great blogger to get to know. That said...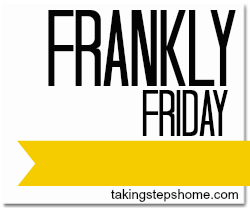 For this, I have to say that my daughter is the cutest! The video that follows will prove such :) (I'm not biased at all.) And frankly, I'm pretty sure I'm one blessed mom! I'll take all the bad and good days with her. The one thing I hate is that I don't have an updated video. Here's what I mean: Zoë has been all over learning animal sounds. When I took this video, she had clearly learned duck (I'm honestly not sure where she gathered that one as it hasn't been a frequent sound correlation I've shown her and it isn't in the book we've been reading), cow, dog, and cat. The latter three have been frequently practiced because of a really cute book we're borrowing from the library: Hello, Day! by Anita Lobel. She now will do elephant with a ridiculously cute arm trunk (this was learned between her Little People Zoo Talkers Zoo - which I LOVE, by the way- and me showing her :) and has added rabbit, too. (The book says "The rabbit says 'Pr Pr Pr.'" Cute, huh?) Anyway, without further adieu, here's the video:
Life isn't always easy being a mom. Any mom can tell you this. Actually, any good nanny can tell you this. If you've worked with kids consistently, there are plenty of times you want to join them in their pity party. (Or is that just me?) There are many times you can find yourself wanting to succumb to feelings of anger, frustration, self-doubt, incompetence, you name it and throw in the towel.
And yet, when you don't, when you choose to look at the many, many blessings that come from all the hard work, you remember how worth it is. You remember that the gift of having a tiny human blessing far outweighs any bad days you may see. And that is one reminder that keeps me going at the end of the days I want to throw in that towel hard.