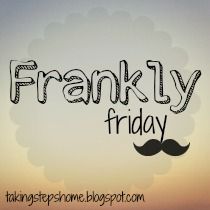 Today I'm participating in a blog hop. Feel free to check out the gal who sets is all up,
Amy's
, blog :) She just started it a few weeks back and I have a couple of other blog friends who have participated on a regular basis. Love the posts I've seen, just haven't felt like I had much to add. Well...today I do :)
Enjoy.
So I was going through blog posts yesterday, instead of getting ready for the day *sigh*, when I happened to read a great post by Tony Reinke on the DesiringGod ministries blog entitled
Learning from Lincoln's Flawed Marriage
.
Loved the post. I think
everyone
should
take a moment to read it
.
Seriously.
You'll learn more from it than from me; I'm pretty sure I can guarantee it.
What stuck with me was one of the last statements Reinke made:
"There were resources for healing he did not know, and short of healing, embracing the fire is BETTER than escape." [bold print, enlargement, and italics mine]
Why, you might ask, did this resonate with my soul so much?
Well, my heart loves to find ways to escape. Even if it's becoming numb to all around me in hopes that it will soon subside. Though it might be different for everyone, I'm willing to bet many people are like this and they either don't realize it or they deny it. Personally, I've done the latter a lot.
Thankfully, I've gone to counseling a couple years ago and I've been surrounded by friends for many years who don't stand by either of those afformentioned situations.
(Oh and by the way, hopefully you've realized by now I find the point I enlarged applies to much more than marriage. I think it applies to many aspects in all areas of life.)
It can, and more than likely will, make life unseemingly hard, though I've actually found it can be even harder attempting to hide and/or control when we have no ability to truly do either. (Gah, I'm rambling. Just hang tight with me. I have need to spell this out, more for myself than for you.) Yet those hardships, if embraced, as Reinke suggests, can be the refining fire God uses to mold us more into his likeness. Embracing the fire is like allowing God to put us in the crucible so that when we are completely refined we come out reflecting him. All for his glory!
Painful? You betcha!
Rewarding?
Far beyond any worth we humans can measure.
For the outcome is a better image of the Creator, which is the reason for all of life.
And though we will not be completely refined this side of Heaven, I can't imagine living a life filled with pain without knowing I'm suffering all for his glory, whether seen or unseen by someone else.
Maybe a bit hard to chew walking into what is known as one of the happiest seasons each year sees. But for me, I think it will hopefully help keep me in the right perspective of all that we celebrate at Christmas.
Yes, the birth of a Savior but who lived a life full of pain all so he could pay my ransom from a life indebted to paying him for my failings.
He is the reason I celebrate this season, for without him I have no capability of truly glorifying God, and
that
gives me
abounding joy!