So here is to an easy post. I don't want to spend a ton of time telling about what's going on now...I just don't :) I'd rather cherish it in my mind.

SO...

I do have to say my little sweet pea is growing too fast. Ben came and pulled me out of the bedroom this morning saying, "Mom, you might wanna come see this."

I asked, "What? She rolled over?"

No. She didn't roll over. She had used her very strong, long legs to almost push herself off her play gym. Tummy time turned into working to scoot herself forward. This cannot be happening. Seriously?! I know we're still a ways away from true scooting to get where she wants but...SERIOUSLY?! Ugh...they grow so fast!

What does melt my momma heart is we are full blown smiling :) A lot! And I have had her smile back at me several times. Dad has even been the receiver of it. Precious! Haven't captured it with a phone camera or real camera yet, though I've tried. But soon. Oh very soon I hope.

Anyway...

Here is 5QF: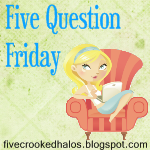 1. What advice would you give a couple getting married?
Hmmm...well lets see, considering I've only been married a year and a half, I still feel extremely new to this. Technically, I think we are still considered newly weds (I think they say that about married couples until they're what...2 years married?...something like that). Even if that's not right, I still feel new at this and I have a 2 month old to reckon with that newness.
So...
Communication takes work. Lots of work. You will find what you say may not mean exactly what you wanted it to. Sometimes because your tone of voice and/or body language is off. Sometimes because your spouse doesn't communicate like you (there's a shocker!) so he/she didn't take it how you meant it. However, if you take time and put forth effort it is so unbelievably worth it to work hard at it.
Ask questions to make sure you understood properly. WAIT to work out a fight if you need to take a breather so you don't say something you regret later. Don't assume he/she knows what you mean by a particular phrase. When they ask you what you want, tell them because more than likely they can't guess by clues you give them (maybe girls do this way more than guys, so I might be speaking to the female side of things, but I know my husband has done this a time or two).
WORK

,

WORK

, WORK,

WORK

, and did I say

WORK

at it! 'Til death parts you it will take work. BUT - You will not regret it!
2. If you could tell your 16-year-old self ONE thing, what would it be?
Well, considering I have always struggled with postitive self-image (both physical and thinking I was not worth anyone's time) and back then it manifested itself in hiding my true self, I would probably tell myself this:
Be real. Hiding is hard work. It is not worth it. God designed you just as you are. He desires to know you. The real you. He wants you to share that with others, too. Don't worry about how other's will respond to that. Some will be drawn to it, others will not. But what truly matters is allowing God in, to build a relationship with Him that will pour over into other's lives. You are worth time because you have something to share with the world:
Matthew 5:14-16 (NASB) "You are the light of the world. A city on a hill cannot
be hidden; nor does anyone light a lamp and put it under a basket,
but on the lampstand, and it gives light to all who are in the house.
Let your light shine before men in such a way that they may see your
good works, and glorify your Father who is in heaven."
3. What do you do to keep yourself cool in the summer? (AC, windows, fans, swimming, etc.)
I would have to say AC. Or if it provides enough shade and cool breeze, a tree in a park. I may get into a pool if one is handy (no membership to anywhere - though I'm not a big fan of public pools, don't know someone who has one)
4. What did you (or your wife) crave most while pregnant?
Considering I just finished that time in my life, and boy do I wish I could skip that entire experience if we have another child, this is an easy answer. Because I only had one craving: Avacados. I still love them. I could eat one, no three, a day and still possibly not tire of them.
5. Who is your favorite TV mom? Why?
Well, considering we actually don't have cable or even the basic channels (not able to get HD signal...believe me we've tried), I'm not up-to-date on who's out there right now. And honestly, before that I stuck to mostly Everybody Loves Raymond. Hilarious show. Not something to be modeled at all, but I think that's kind of the point. It rides on the stupid things no one should do when married, but not sure I could say Deborah is my favorite TV mom...so...can I cop out and say I don't have one? I guess I'm gonna have to.