I'm beginning to wonder if my brain is really residing inside my head anymore. I surely don't feel like "myself", though I'm not even 100% sure of what that means. I guess I just don't feel like what I remember myself being pre-baby. I've changed, a lot if I recall my old self properly.
Anyway, all that to say, I liked the questions for Five Question Friday today, plus I needed a few prompts to get my juices flowing for a post. So, here you have it: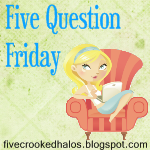 1. If you bake during the holidays, what is your favorite thing to make?
I have yet to bake during the holidays. Our budget is so tight right now that baking just doesn't figure into any holidays, yet, honestly. BUT if I did bake, I can't say what my favorite item to make would be, but I can tell you that there definitely would be some oatmeal date cookies amidst the many items. They are
my fave
one of the few holiday treats I just
cannot get enough of
. I also want to begin a tradition, once my Zoë is old enough, of making sugar cookies with my daughter and any possible subsequent children :)
2. Present giving:
Gift bag vs wrapped box?
This one is up in the air for me. Sometimes I prefer wrapping in a bag over a box but it really just depends. I realized after I typed that response, it isn't true. Until I realized a bag would save me money, I went out hunting for a small box to wrap my nephews present in.
Box hands down. More fun to open. More fun to wrap, in my opinion. Just more fun all the way around.
3. W
hat do you keep your thermostat on during the winter/summer in your house?
Our thermostat stays somewhere around 78, no lower than 75 in the summer, and around 70 in the winter. Definitely doesn't go over 73. We do, of course, live in the deep south. And in Houston, I'm told the cool weather we've been having is a rarity. So not happy with that. *sigh*
4. When thinking of your "Christmas to-do list" what percentage "done" are you?
Considering my to do list is very small right now and finances help make it even smaller, I'm 98% done.
5. Do you do the "Elf on a Shelf"? If so, is your Elf naughty and what shenanigans has he gotten into?
Zoë is too small for us to even discuess whether or not "Elf on a Shelf" will become part of our Christmas tradition. I have nothing against it. Just not sure if we will.