And today that means I'm going to participate in Five Question Friday (#5QF on Twitter).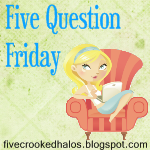 1. How often should adults have birthday parties?
Gee. I honestly don't know. Personally, I prefer to celebrate them in a small way. Cake, maybe a special meal with those closest to you. So at this present time, that would mean me, Ben and Zoë. If my immediate family were here, we'd likely celebrate it with them but not on the day of. Because I reserve the day of for my own family now. That's the way I like it :) And Ben agrees.
2. What was your room decorated like when you were a child?
Honestly, we weren't really allowed to hang stuff on the wall so the walls were bare. Literally. (Well, that is until my sister and I decided since would couldn't make holes we would tape posters up. So, of course, we hung pictures of our favorite boy bands and the like. Your normal middle school girl type stuff.)n However, it was painted a pastel yellow which sort of compensated for the bare walls. I shared a room with my little sister and for a while we shared a bed. BUT, after a couple years of that my parents bought us matching twin size beds and this old timey quilt with a little girl on it. (Matching of course.) Not anything I would pick. But it was a bed. So I'm not going to complain.
3. Do you have any traditions for Easter? If so, what? And do you have a why behind that?
As of yet, no. Because of finances we haven't done anything for each other. And since Zoë is only a year old, which means she was only a couple weeks old last Easter, we haven't started any with her either. Ben and I were talking about this the other night *cough* I asked this question *cough* and there were a couple of ideas we threw out there.
One, let me say that I would love to continue what my mom did for us with our Easter baskets each year. Easter holds a lot of meaning for me because of my belief in Christ. Though the cross plays a huge part in that belief, without the resurrection, which is what Easter celebrates, the cross is meaningless. That said, my mom always made sure that our baskets tried to somehow convey this very important meaning. To get a better idea of what this can look like, you can hop on over to my sister's blog, A Dollop of My Life, where she wrote a great post on how she did this for my two (almost 3....YAY!) nephews last year.
Second, apparently Ben loves the chocolate bunnies and wants to make sure our kids get one every year. (Of course, we did not buy one for Zoë this year.) I'm talking, that is the only thing related to Easter we have bought/done every years since we've known one another, four years. I have to say I find this hysterical because if you were to ask Ben, who is a history buff, where Easter originated, you would get an approximately 15 minute speech about how 1) he will not tell his children this story until they are older and 2) it's a pagan holiday that was turned Christian in some weird way or another. I don't know. He's told me twice. Point #2 is all that I can remember from what he's told me. It's actually kind of gross and inappropriate so...I'm pretty sure I'm glad I don't remember. And the bunny somehow ties into that. Yet, that choclate bunny. Oh that chocolate bunny. The minute the candy comes out and we're at the store together I hear, "Hey, the chocolate bunnies...You want one?" (aka I want one but don't want to just ask for myself. Ha!)
We also discussed how we think it would be fun to do an Easter Egg hunt. Whether with a group of people or do our own or both, we're not really sure. But Ben said that was something he really enjoyed and would love to do for our kids.
As far as preparing for Easter, because Zoë will be a little older where she will be able to start grasping small bits of an entire concept next year, I'm hoping to find some decently priced resurrection eggs this year. My sister also recommended a couple of books this year and one of them, The Story of Easter by Patricia Pingry, is a board book that I plan on purchasing also.
For now, that's the plan. I'm sure it's apt to be tweaked a little, but the general idea is to keep it Christ-centered.
4. Do you get Good Friday off? If so, any plans?
Umm...for the time being, I get no days off. The hubs helps out some when he's home but that just usually means I'm off somewhere else cleaning or cooking or what not while he's watching the babe. Thus, no plans. It was just a normal day for us.
5. Did you wear hats & white shoes to church on Easter? (Or was that just in the South?)
Well, I am from the South. The deep South. As in you almost can't go much more before you're in the gulf, deep South. And we never wore hats. Maybe because that wasn't something my mom liked. Or our budget just didn't allow for it. Or a little of both. I'm not really sure.
White shoes? Yes ma'am! every year. With white socks if need be.
Will I do this for our children? Probably not. I'm not all in to dressing up for Easter. Nor is it really fitting into our budget. It's just not something I really care about.
And there you have it. If you wanna join in, hop on over to Mama M.'s blog by clicking her lovely 5QF button I posted above. You can paste your link over there!