Holy Hallelujah! It's Friday, you guys! And tomorrow my sweet hubby took off of work so he could spend it with me for my birthday :) So excited considering we rarely get a "normal" Saturday. I guess that's one of the reasons I'm so pumped about today being Friday. Normally, it means nothing for me. But today, IT DOES! hehehehe I'm like a giddy...yeah I have no idea. I'm just giddy!
Anyway, my mind is bouncing off every wall, so I'm gonna participate in the lovely 5 question Friday with Mama M. Feel free to click the button and join in yourself :)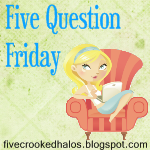 1) How long did it take for you to find your wedding dress? (Wedding dress pics anyone?)
I happened to be one of those who decided to "just go look" with my mom and found the one the first time. We went a month after I got engaged. Be ready for several pics :) (with commentary of course!)
This dress = SO ME! Even my mom thought so, but refused to tell me until I made my decision. We left, I slept on it, went back to try it on, and knew I was right. It. was. perfect! Here, I'll throw in some alteration fitting pics too :)
Oh how I love my shoes :) Yes, I did wear these on my wedding day! Most comfortable shoes :)
2) Somone in your vicinity releases a NASTY smelling fart. Do you say anything or blow it off?
Ok well, that depends. If it's someone I don't know - I generally don't say anything or whisper it to someone if I'm with someone (i.e. at Walmart). If it's in my home or with my family, heck yes I'm gonna say something!
3) What is the scariest thing that happened to you or scared you recently?
Golly...I startle easily, but I can't really think of anything that scared me. I can think of the scariest thing that has happened to me in the last ten years:
My sophomore year of college I was out with my roommates. We were driving home on the interstate when a car started tailing me. I am NO FAN of tailing and can get kind of mean when people do (aka I frequently break check them). Well, I was able to move into the right lane, so I signal and do so. However, the crazy person slows down and gets behind me. Then he starts flashing his lights at me. So I speed up. So does he. He starts honking his horn at me. Continues to flash his lights at me. Tails me. Even after multiple break checks. I can't get rid of this guy.
Ends up he follows me 13 miles down the interstate. Since I lived in a small, college town I figured he exited because he, too, went to my school. I drive the way I normally would but this dude just wouldn't leave me alone.
We called some friends, who were in a car a bit behind us, to tell them what had been going on. They advised we head to our normal destination, but if the car followed us to not park.
We do so and the guy wouldn't leave us alone. When we set in stone that this guy had been following us for at least a good 15 miles, we called the campus cops. They advised we drive to their station, hoping the guy would follow us. However, he was a bit too smart, figured we would at least be passing the station, and bailed. We didn't get a license plate so we couldn't file a complaint.
Needless to say, I am a very paranoid driver when it comes to cars going the same way I do and seemingly doing what I do. Never been followed again, but I just can't forget that.
4) Favorite brand and flavor of ice cream.
Blue Bell Moolenium Crunch. Hands down.
5) Are you able to sleep well in hotels?
Hmm...I think so. It honestly depends on the bed and the pillow :) If the bed isn't stiff as a board but not that soft and the pillow isn't too hard or too large, then yes. (Man, that makes me sound really picky about sleeping quarters.)
There you have it folks. Ended up being a much longer post than I expected. Happy weekend to you all! The next time I post I will have grown one year older :)