Well, after yesterday's post, I'm in need for a little something lighter. My mind needs rest from thinking about our recent loss and a reminder that there are so many blessings surrounding me even in the midst of this storm. And so I'm going to join in on #H54F hosted by From My Grey Desk. I'm also going to join in with Amy for her Frankly Friday :). My last bullet is probably the most frank, but still everything is completely open and honest. Completely me and where I'm at. So here you guys go.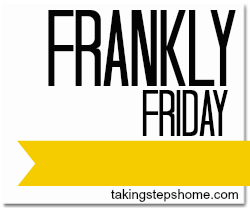 (Just 411, I'm going to consider my week being from last Friday through yesterday.)
1. Last Friday, Zoë and I drove from Houston to Fayetteville. 9 1/2 hours to be exact. And 12 if you include all the stops we had to make for stretching, eating, and bathroom. (I, of course, was the only one in need of the last but it worked well as another opportunity for Zoë to get some fresh air.) Anyway, I wasn't sure how it would go, but Lord bless whoever was praying for us because I think maybe combined she only cried for max of 2 hours of that. And most of it was when I expected melt-down-city to occur: between 6 and 7 pm and even then most of it was confined to after 4:30 pm. Thank you, Jesus!
2. I have enjoyed spending a week with my older sister and her family. We aren't able to see each other often because of our young families and the distance between us. So when I have an opporunity like this, I jump on it. We have even had the chance to leave the house, just me and her, and spend some much needed sisterly bonding time :)
3. I posted this tweet on Monday (obviously, my 5 weekly facts are not in order). And I must say, B has made my week just by doing that. If naptime weren't so sacred around here (boy, do we love the silence that it brings), I would run in his room right now and squish him. Because him stopping to look at me with the sweetest look in his eyes to tell me that he loves me...MELT. MY. HEART. I'm pretty sure it's been a puddle ever since. And I'm not sure that it will ever solidify again. Ha! I kid, but seriously. It's a precious, cherished memory.
4. Not only have I been able to see my sister and her fam, but I've been able to spend some time with my Uncle, Aunt, and their fam. And I even was able to spend a couple of hours with just my Aunt. I love getting to see them and spend time with them. They both just possess so much wisdom and my cousins are so sweet. It just always warms my heart and fills my love tank to be able to see them. And the time with my Aunt was healing, even though we weren't discussing the miscarriage much. It just was so. good. to spend one-on-one time with her.
5. Frankly, I have enjoyed how little time my mind has had to wander due to being at my sisters. I think I might have been much for sad this week and had time to dwell on the miscarriage had I been back home. First of all, Ben isn't home. That would have lead to a restless mind which tends to get me into trouble. Secondly, I have not had much down time and when I do have down time it's usually occupied by either sleeping (naps are much needed when you spend most of your waking hours with three toddlers) or time with Drew and Lindsey. It's helped keep me present for Zoë, which I have struggled with as I have wanted to just crawl under my covers and stay there for days. It's helped remind me that even though I am suffereing loss, there is so much life yet to be lived and I can grieve while staying in the present.
Happy Friday, everyone! Hope everyone has an enjoyable weekend!