It's Friday!
And I am sooo ready for a weekend where the hubs will be able to spend time and help me with our cutie patootie. She's been a force to reckon with this week. And I'm not enjoying transitioning to all solid foods.
She's in love with putting both hands on her tray so she can swipe them back and forth to push her food on the floor. Anyone else no a good way to solve that problem? Cuz to me, it's just gonna take time and Jesus teaching me another lesson in patience.
Seems that lesson is ever finding new ways to pop up in my life.
Seriously.
Plus, all that on top of her cutting teeth. I'm pretty sure she's almost done cutting one, getting ready to cut two more and has a fourth s-l-o-o-o-o-o-w-l-y working it's way down.
Four teeth.
At least that means teething will be over sooner. Right?
So, because my brain is about as fried as an over hard egg, I'm gonna use five question friday to help stimulate it and share a bit o' myself with you.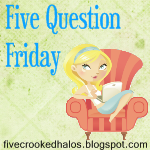 I am not joining in on the vlog fun because well, I was doing well to get almost all of the apartment cleaned this morning. Which in turn means that I have neglected myself. Yikes! Not putting that gorgeousness up for viewing.
So on to the questions:
1. Flu mist? Flu shot? Or take your chances?
Ok. So here is my scoop on it. The flu shot, if you're not high risk, really is bartering with a virus. You won't catch the disease from the vaccine, you could catch it from the mist (mist is live), and you might not get it at all even if you don't do either.
With that being said, I do not get it myself and I don't force my hubs to get it.
BUT, I do think if you are high risk (I don't remember all the diseases that complicate influenza but I do include pregnant women in this group), elderly, or a young child then I do think it's good to get it. That is because high risk and elderly patients run the risk of having complications outside the actual virus that have a potential of becoming life threatening. And young children, I'm gonna go with age 5 and under here, generally spread the disease. And if the young child is an infant, they also can be high risk as their little bodies don't always handle a disease like that very well.
That's my scoop.
That's how we do it in this house.
So this past year, only the bambino was given the full two rounds needed for a child to be inoculated.
2. Do your kids have iPads? What are some good educational apps? Price?
No. My child does not and our family won't be getting one anytime soon as we are on an extremely meager budget.
3. What are your favorite boy/girl baby names?
I'm actually not going to answer this one.
We like to keep them to ourselves until we know gender.
And if we should decide on a surprise for if and when the next baby comes, well then that just means everyone will wait to find out until the little bundle graces this world with his or her presence.
4
. If an apple a day keeps the doctor away, which apple do you choose to eat? (red/green, gala, red delicious, etc.)
We eat whatever is the cheapest at the time.
My favorite is probably the Jazz Apple because of their sweetness and crispy texture. I'm actually 100% sure I've never had a "bad" Jazz.
Think I'm crazy?
Well, texture matters to me so when I bite into a sandy apple, it goes straight to my hubby who doesn't care enough that he won't eat it.
Anyone with me on sandy?
Know what I'm talking about?
5. What is your favorite place to escape to for peace and quiet, to think? Why?
I have a few.
Because I love to be alone. And alone in my thoughts? Well, that's even better!
I would probably do it a lot if I had the ability to escape often.
I actually love to find a quiet corner of a Starbucks or cozy coffee shop and isolate myself with my computer and books. Just enough natural light through the windows so you can see but dark enough that it makes you feel like you're by yourself. I love a more dark tone set in a room. Not pitch black and eerie. But comfortable with just enough to see what you're doing in your small space. Anyway, a coffee shop isn't usually the first place I go because I'm one of those must-buy-something-if-you're-gonna-stay kind of people and well, we just don't have money to splurge on that kind of nicety.
If it's a really nice day outside, I love to find a quiet park with a good tree to sit under. Lay out a blanket. And enter whatever dream world I've brought with me to escape into.
Because usually escaping for peace and quiet involves some form of reading for me. Sometimes deep, like The Reason for God by Timothy Keller, and sometimes light and completely fictional, like anything by Karen Kingsbury. (Oh gosh! I just saw she's got a new book coming out when I went to find that link. Hold me back! I don't have funds to spend on new books! HA!) And even at times, it means wasting away while I stare at my computer screen surfing the net or reading a good blog.
I dream of the day that my hubs can take the kids and I will have a nice, cozy corner of my room, or even better a back porch, to curl up on some comfy piece of furniture, like an oversized recliner or a swing if it's a porch, and escape in that way. I won't even have to leave home. Because honestly, I am a home body and as such love to make my home feel so inviting that I hardly ever want to leave.
Well, there you have it.
A little bit of me exposed by questions asked.
Even if you've already got a great post, it's always fun to link up with others for #5QF (yes, that's the hashtag on twitter :]) to see what they have to say!
Happy Friday, everyone!