Linking up with Amy from Taking Steps Home :)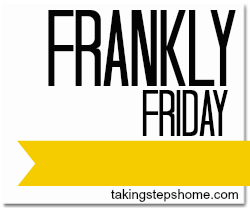 Although I continually contemplate getting off of Facebook, and the only thing really keeping me there is the fact I have a page for this lovely ol' blog, I had a moment this week I was certainly glad I hadn't. A mom who I was able to get to know, albeit briefly, during my time growing up in Little Rock posted one of the most encouraging statuses I've seen on there. It simultaneously made me glad I hadn't forever turned off my personal Facebook as well as happy about the length a status can be. (Sometimes I
loathe
FB statuses can be infinitely long. I'll keep from ranting more on that.) I left names out, as I told her I would, but I couldn't not share and she was completely fine with me sharing, so I'll let you read this oh so wonderful status:
"Received this in the mail this week from a precious, ninty year old widow:
Psalm 23
The Lord is my Shepherd = That's Relationship!
I shall not want = That's Supply!
He maketh me to lie down in green pastures = That's Rest!
He leadeth me beside the still waters = That's Refreshment!
He restoreth my soul = That's Healing!
He leadeth me in the paths of righteousness = That's Guidance!
For His name's sake = That's Purpose!
Yea, though I walk through the valley of the shadow of death = That's Testing!
I will fear no evil = That's Protection!
For Thou art with me = That's Faithfulness!
Thy rod and Thy staff they comfort me = That's Discipline!
Thou preparest a table before me in the presence of mine enemies = That's Hope!
Thou anointest my head with oil = That's Consecration!
My cup runneth over = That's Abundance!
Surely goodness and mercy shall follow me all the days of my life = That's Blessing!
And I will dwell in the house of the Lord = That's Security!
Forever = That's Eternity!
(Face it, the Lord is crazy about you!)"

How about you read it again? Really take time to soak in everything the widow has to share with us. (I know I've taken time to read and reread a couple times this week.)

Though I have still been on the top of a slope, so to speak, reading Psalm 23 with the reminder of what each part means...it was like a hug straight from God Himself. As though I could feel His arms around me physically. It truly is a reminder He is crazy about me! And anyone who is His child He feels the same about!

Sometimes I glance over the text, but I soak it in about as well as oil and water mixing together. I've heard it so many times I forget all the goodness God is whispering to me about His love for me in this passage. Thankfully, God doesn't want us to go this life alone and brings about those who have walked on this earth longer than us who are willing to share their wisdom.

To be reminded of how much God cares about me, an extremely undeserving party...well, I'm speechless! I'll leave it at that. Enjoy reading (and rereading...and rereading)! :)