I'm waiting on my Nap Evader to go to sleep. Listening to her talk fuss. So I will take some time to do a quick post. And maybe come back later for another post. Maybe...


On to linking up :) Just click the button below and it will take you to the site.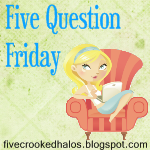 1) Did you do anything special for your kids on the last day of school? Or did your parents do anything special for you?
Well, seeing as my only child is a few days shy of 13 weeks, I'll go with the latter question. My parents would always take us out (us being all four kids) to eat and then take time to tell each one of us how they were proud of us. At least that's what I remember. I'm not sure I will celebrate the end of the school year that way, simply because I'm not, but I definitely want to do something along the lines of commemorating the year and making each kid feel special.
2) What's your favorite summer tradition with your children?
Umm...don't have one yet. So honestly not sure. On a small scale I definitely think an icee or snow cone might just be part of the deal :D
3) What was your favorite thing to do during the summer as a kid?
Hmmm...
Still thinking...
Geez I guess I'm honestly not too sure. I was a book worm (still am honestly) as a kid so my favorite activities didn't ever require a certain season to come along. But now as I think a bit more on it, I probably enjoyed going to the lake with some of our friends. Tubing. Learning to water ski. Attempting and sucking at kneeboarding. Yeah. That was a great summer activity!
4) How old were you when you were married? Were you a Bridezilla?
24. And I have to agree with Mama M - definitely a perfect age to get married.
As to the second question, I don't think I was a bridezilla. I knew what I wanted my wedding to be like and made sure to make specific requests so that it was how I would like it to be but pretty sure bridezilla never entered the picture.
5) What is your favorite girl name? (I'm needing suggestions)
Well I can start off with I love my daughter's name: Zoë. I also like the name Ariadne and Adelaide and Lyla. Just to name a few...