Another Frankly Friday with Amy!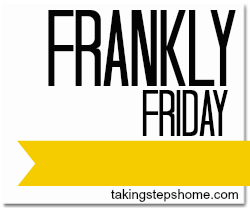 This may be a quick post. It may not be.
But I just want to get my thoughts out there after reading the first two books of the Bible, Genesis and Exodus.
As a Christ-follower I frequently hear people say, and I firmly believe, that all of life is about God being glorified. And He will be glorified even if you try to go against His will. (There are several biblical stories as well as many people I have met currently living who are testament to that. Just read Exodus 4-15. That's one of many, with several preceding it.) However, one of the newer lines of thinking I've been introduced to is really trying to see the "God" moments in your life, to see how He is weaving your story even if it feels like maybe He couldn't design it this way or you get lost in your humanness and life is just so good you start taking credit. The bottom line is taking time to see how He is working in your life so that He may be glorified.
Anyway, I had decided recently to try to read through the Bible in a year again. I've done it once and enjoy doing it on occasion just because it gives a big picture rather than taking a small snap shot and focusing on it.
As I've read, I keep seeing how the story really isn't about Adam or Noah or Abraham or any of the other patriarchs or other "main" characters. Really it's all about how God is using those people to Himself be glorified. And I've been blown away. How I've missed this before, I'm not really sure, but it makes even the most boring of texts (read: Leviticus [book of laws] and Numbers [literally a census of the people]) become interesting. I knew before that it was about God, that it really wasn't about these people, though there are lessons we can learn from them, and really about nothing other than Him. But to actually read it in that light, well I'm really enjoying it.
It's refreshing. It's uplifting to my spirit. And I hope that as long as I am able to read, the Bible continues to show me more of how God weaves Himself into every story and is glorified.