Linking up with Amy for her Frankly Friday post. And this week, it's a happy one!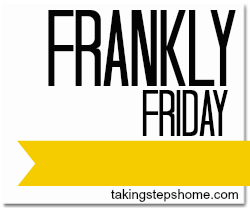 I'm pretty sure that Sunday was my high this week.
Not that the rest of it has been bad. It's just nothing can compare to the wonderful time that I had with three of Ben's Aunts and his cousin who were in town. Thus, we were able to visit. (Well, his cousin and her family live about 30 minutes from us when there is no traffic, but still...we don't get to see each other too often.)
I was so excited that they contacted us to let us know they would be in and wanted to get together with us. Both Ben and I always enjoy their company; frankly, I wish they would all move to Texas. (Let's face it, unless we
absolutely have to
, neither of us ever want to call Louisana home again. We
love
Texas. Not the heat, but whatever!) Well, ok we'd just love to have them around all the time. I couldn't honestly make them move with the possiblity of us ever moving up to NWA to be closer to my older sister and her family and my Uncle Paul and his family.
(Yep. I'm fine staying in Texas and the only reason I would hope we'd ever leave this state is because Ben's job moved us right down the road from my older sister. Then all the March-Daigle cousin's could play together! And get in trouble together...yikes!)
Anyway, Zoë was able to play with her second cousin, Hudson, who is a little stud! I mean seriously you guys, can it get any cuter than this:
Those blue eyes with that blonde hair kill me. Ben and I say he's going to be a little heartbreaker!
She also spent time with each of her Great Aunts, though I was terrible and didn't get a picture of her with each of them :/ Bummer.
Ben's nanny sat and played with the iPhone with her for a while and I was able to snap a pretty darn cute picture of Zoë with Aunt Janell. (Aunt Janell = Ben's Nanny. For the good ol' cajun folk from Louisiana, Nanny is the term for godmother and Paran [pronounced "paw ran"] for godfather.)
It's a little blurry, but it was the best I could get with little squirmy over there.
After all of maybe two minutes, Zoë had the iPhone pulling up Siri and then hiding her. She thought it was great and Aunt Janell made a game of "peek-a-boo" out of it. (Or "pee pie" as she called it and had Zoë saying within all of 5 minutes. Ben had never heard it called that so I found it funny when he was asking. May I say that the reason I found it funny is because I usually can call Ben my walking Encyclopedia. Caught me off guard when he didn't know what "pee pie" was. Also, note that I don't know how to spell it...so I'm spelling it like it's pronounced, thank you very much!) Anyway, they tried to get Zoë to ask Siri a question, to no avail as we're still only in the one-word-at-a-time world.
However, Zoë said "pee pie" to her, and Siri replied, "I don't understand. I will play music for you." Or something to that affect. She promptly started playing whatever country music Aunt Benita had on her phone (I have no clue what it was as I don't generally listen to country.) and Zoë started dancing for everyone. She decided to see if she could get Aunt Louisa to really join in with her and this is what we videoed:
I love how laughter seems to just flow out of Zoë. Not to mention, we were all enjoying the entertainment she was giving us. Oh, and do you see her head of curly, curly hair? It takes a little bit of water (or being outside in the humidity), but after a little playing with it, it looks like that. I'm kind of jealous :)
Anyway, we sat around chatting for a while, just enjoying one another's companies while the not-so-babies played and entertained us.
Then we went to lunch and enjoyed one another's company a little longer before we had to part ways. The kids were getting fussy from being overdue for naps and two of the Aunts were headed back home to Louisiana.
And the time we had with them has just stuck with me for the rest of the week.
Hope you've had something happen that's kept your spirits up this week too! It certainly is a nice treat!