So, I'm linking up with Sar again. Here is Day 10. A bit later in the day than I have been posting but we were out on the town with some friends who are visiting. Unfortunately, I have no pictures to show for it but a sore back from carrying a baby without the carrier because she had decided she'd had enough of the stroller and I forgot the carrier. Oops!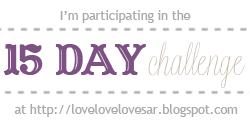 [Day 10]: What's your most embarassing moment?
I didn't have the easiest time coming up with a story for this which, I guess, means I'm not embarassed too easily. That or I don't hang out with people who embarass me too often. OR I slip it away into some abandoned corner of my mind and never remember. I think it's the first though. Thus, the story I have to tell you is more just funny but hey. Funny is good too, right?
It takes place during my senior year of high school in my first period class. I got along with that group of people farely well (I don't remember who all was in my class) and we were all sitting around during some free time we had that day.
I don't remember exactly what I was doing, but I had somehow missed out on an entire conversation about a prank they thought would be funny to play on somebody. They weren't sure it would work but were laughing pretty hard about it. Enough that it caught my attention.
I looked up and asked them what they were doing. Robin, one of the girls in my class, made a statement about how hard it would be to roll a quarter up and down your nose. I, the gullible person I was back then, looked at her with a "Are you serious?! That's stupid and stinkin' easy!" look. She proceeded to hand me a quarter so I could prove I was right.
Well, in the process of showing everyone how silly she was, I put a pretty black line up and down my nose from the sharpie she had put along the outer edge of the quarter.
Of course everyone laughed and I wondered why they thought it was funny I could roll a quarter on my nose. Robin proceeded to explain what had been going on and what I had just done.
I honestly do not remember exactly how I reacted but thinking about it now I laugh at how gullible I was.
And that my blogging friends, is the best I could come up with for an embarassing moment.