Saturday is cleaning day and I am happy to say it's all done! That's a record for me with a baby in tow. Normally it's an all day event and sometimes completion never sees the light of day. As in, I'm feeling good if the bathroom is cleaned OR the floors are vacummed. Yup. That's how it is around these parts since March. And she isn't even fully mobile. *sigh*
I'm also dog sitting for my mom this weekend. I captured a really cute pic of Zoë with Cody.
I know I'm a bit biased, guys, but I think she's a doll! Oh and notice she's donning a lovely teething bib due to excessive drool and some spit up :) Keepin' it real!
Now on to the15 Day Challenge: [Day 7]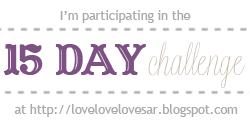 [Day 7]: Recommend a book for us to read. Why do you think it's important?
Oh geez. Really? You should see all the books I own, not to mention a majority of them I have read. Yes, some of them I haven't but I fully intend to eventually :) Grrrr...even cheating by listing one nonfiction and one fiction won't help me. BAH!
Ummm... think. think. think.
You know what. This is way too difficult for me.
So I'm just going to recommend the series I'm finishing up right now. Most people are familiar with it as some amazing movies were made a few years back.
The Lord of the Rings trilogy by J.R.R. Tolkien
I'm currently on the final book: The Return of the King. Some people may not enjoy it because of the detail Tolkien takes in describing scenery and other seemingly nonimporant facts, but for me it really helped to visualize where everything is taking place (not to mention, my hubby is a LOTR nerd and bought the books that have maps in the back of them).
Oh and should you decide to read it and you have any questions about it, here's a very helpful website: The Encylopedia of Arda. You can also thank my hubby for that :)