Ooooy....I'm sleepy. Keeping up with a baby is going to make sure to keep my life movin'. No, no. She's not scooting or rolling around or anything of the sort. But when she's awake, she's talking like no body's business! Cutie patootie! And just caring for her wears me out.
Mom, thank you for taking the time to stay home and raise all 4 of us kids! I know I didn't thank you enough growing up :)
Ok so on to day 2 of 15...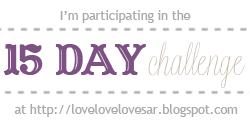 [Day 2]: Write a [few] six word memoir[s]
Blessings in disguise typically equal unplanned
There are so many parts of my life that fit this but the most recent would be the birth of my daughter. She was such a surprise to me and my husband. Those close to us know this. I know everyone talks about how you're never ready to be a parent, even if you were planning on it at the time, but I was overwhelmed with the idea of being a mom wondering how I was going to do caring for another being, knowing I was not ready and never would be. Though I thought I would have asked for her to come a little later in my life, I can't imagine life without her now. Another reminder that God's plans are far greater than my own. Makes me think of the following verse:
Isaiah 55:8 "For My thoughts are not your thoughts,
Nor are your ways My ways," declares the Lord.