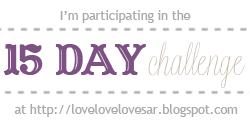 [Day 3]: Tell about an article of clothing that you're deeply attached to.
Believe it or not, my article of clothing I'm attached to is quite a new article. Bought for and worn the first time on my Honeymoon, which was a year and nine months ago. But it has a lovely story.
You see, my best friend and I went shopping for my honeymoon clothing together. And found lots of great dresses and shoes and accesories. But there was this one dress. Oh and she is a beauty! And sexy but cute. And freakin' comfortable, ladies! One you could hang out in ALL. DAY. LONG! Not to mention, if you're brave enough, you might even want to find a way to wear it in winter because you just long to wear it. THIS is THAT kind of dress.
Here is a not so great photo of it but at least you will have one:
This dress was on a manikin. We both immediately loved it, so we went searching for said dress on the racks of dresses.
Nada.
Up and down.
Nothing!
Up and down.
We hung our heads.
So my bestie decided to see what size was on the manikin. Neither of us held our breath as usually manikins usually end up with a pretty small size dress, of which said size does not fit me. But we wanted to see. Just in case.
Wouldn't you know said dress was my size. To the tee (at least by the number presented). We moaned that the dress size I would need to try on would be on the manikin. What store clerk would really desire to strip the manikin?
So we bemoaned the fact and headed back to the dressing rooms to try on the hundreds (ok I exaggerate but there were a lot) of other dresses we had picked for me to try.
But that dress was stuck. In both of our heads.
And that's when my bestie got the most wonderfully, mischievous, great look in her eye. I didn't quite understand it at that point but would you know I was oh so glad it came to her? She left shortly after I saw the gleam in her eye to find a different size of a dress I was trying on, only to come back with a different size AND...
THE DRESS!!!
Niether of us could stop laughing after she told me she had decided to strip the manikin.
And oh the dress fit perfectly!
Still one of the greatest memories I have :)
And now, I'm dreaming of the day my body will (boy am I really crossing my fingers) go back to the way it was pre-Zoë. You see, breastfeeding kept my rack enlarged to much more than it was pre-baby. And so I fall out of that wonderful dress now. I long to fit into. To feel the comfortable fabric against my skin. And love the way it fits me. Comfy and cute.
Hopefully, I will one day see that dream become reality. But if not, at least I took almost every opportunity given to wear it.
Oh and by the way, I'm not attached at all ;)