I'm all in for an easy post. Teething has labeled my week rough. Plus, I think the little miss is having some tummy issues. She doesn't like when anything messes with her bowels and makes sure her voice is heard on the matter. I can't blamer her though. Her momma is the same way :)
Anyway, I love five question friday with
Mama M.
And true story: I forgot to link
last weeks
post. That link is about all you will get to it :) That is what happens when your life is more about raising a 4 month old than anything else.
Now on to this weeks questions: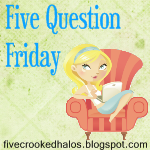 1. What is the funniest thing you saw on Facebook/Twitter this week?
You know...I have no idea. I could tell you Honest Toddler had some really funny tweets, but I don't really remember which ones I was holding my side laughing at. Nor do I feel like scrolling through them. I don't remember seeing anything on Facebook.
2. What is your favorite Olympica event?
Summer: Gymnastics. I was a gymnast for a while.
Winter: Freestyle Snowboarding/Skiing
3. Do your kids do chores around the house? If so, what are they and how old are the children? Do they get paid?
We aren't anywhere near to crossing that bridge yet. The baby can't even crawl. I will say I do plan on implementing chores.
I had to growing up. I don't really remember how old we were when my mom started, but we helped with vacuuming, cleaning the bathroom, setting the kitchen for dinner, and cleaning the kitchen after. Yes, we were paid for some of our chores. We also were responsible for making sure our rooms were clean, beds made, etc.
4. If you get bad service/food do you complain or keep quiet?
I complain to my husband, who takes it on himself to tell the manager. Not that I really mind. He has a very polite, tactful way of doing so. And as he has managed a Wing Stop restaurant for several years, he feels it helpful when people give constructive criticism. I let him. I, however, do not. (long answer to a simple question, no?)
5. If you could pick ONE frivolous item for you home, what would it be? (massive room sized closet? swimming pool? greenhouse? etc)
Umm...well I currently dream of just having 2 rooms. That way my daughter can eventually be moved to her own room. SO...one very, nice sized master bedroom with a wonderful bathroom attached and a seperate room and bathroom, though not necessarily attached, for the little pea please!