Wow... [Day 13] is already here? Time is passing too fast, though I didn't need a 15 Day Challenge to prove that. Why? Because my daughter is enough of a reminder. Be looking out for a 4 Month post at some point today. Unless, of course, I end up posting it way late, in which case, you would be looking for it tomorrow. Haven't taken pictures yet so it definitely won't be here until this afternoon. But it will be headed your way within the next 24 hours so watch out :)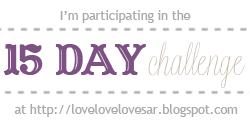 [Day 13]: List your favorites: song, quote, food, vacation spot, photo
So I know I could pick from any faves I have, but I decided to stick with the ones listed originally. Otherwise, I would have a hard time roping in my scatter-brained mind and never get you any. Thus here you have it:
Song
Really? I mean seriously. Let's just start this out with the hardest thing to ask a musician: favorite song? I don't think I can give you a single favorite song.
I mean I love Yo-Yo Ma's performance of Bach: Cello Suite #1 in G, BWV 1007, Prelude. Then there is also NeedtoBreathe's Washed by the Water, Lay 'Em Down, A Place Only You Can Go (just to mention a few of theirs). Oh and The Civil Wars Dance Me to the End of Love. Or what about Coldplay Spies, Paradise, Fix You, Strawberry Swing, Swallowed in the Sea (you know, all of their albums :])? Hmmm...you know I also really like The Cab's High Hopes in Velvet Ropes. Or Kari Jobe's Find You on My Knees and Here. And Jesus Culture's You are My Passion. And Bethel Live's God I Look to You featuring Jenn Johnson. Oh and Ascend the Hill's version of Be Thou My Vision. Can't forget my and my hubs songs: Jason Mraz's Lucky and I'm Yours as well as (and this is probably #1 of the three) Aqualung's Brighter Than Sunshine.
Yep. I could keep going but I did that to prove you can't ask a musician that (or maybe you can but at least not this one). Music to me is all about mood, connection, experience. It all depends on where you are. That will decide your "favorite" in that moment. But a singular favorite of all times. For me, that is just not possible.
Quote
I have a lot of these too, but there is one I consistently go back to. It is from C.S. Lewis' The Screwtape Letters. Let me just say, that book is filled to the brim with a gagillion amazing quotes. I was reminded of such as I went a searching for what I'm about to post. Anywho, here is my go to quote:
"He wants them to learn to walk and must therefore take
away His hand; and if only the will to walk is really there
He is pleased even with their stumbles." p. 40
Good quote, no?
Food
Oooo la la. Well, I have to say if it is cooked right I would have to say steak. I love me some really, juicy, tender steak. With mashed potatoes or potatoes au gratin or twice baked potatoes. And asparagus or my mom's strawberry salad. Yep. Steak it is.
Phew!
Glad that was easy :)
Vacation Spot
Well, considering most of our family vacations were at the beach, of which I'm not a huge fan, and the only real vacation my husband and I have been on would have been our Honeymoon, I'm not quite sure I'm qualified to answer this question.
I do know I love to ski. I've been a few times. And I love it. I could see myself choosing that as my fave, especially since I prefer for it to be cold and you have to wrap yourself up in some good ol' toasty blankets.
Williamsburg was fun. And I would love to go there again.
And I do remember enjoying D.C. when we went in my early teen years.
But I think I would prefer a vacay in the mountains. Or at least on a Cruise, because I remember that being quite fun too.
Ahh...for sake of answering the prompt: mountains/skiing
Photo
Bad question to ask a newly budding photog and a photo junkie. I mean, I could smother my living quarters in pictures. Literally. If it didn't become so overwhelming, I would do it.
I guess let me share a few. One of which you've recently seen, but I love it so much I must post it again:
How could I not love this? I mean, my wonderful hubs did this on his own. Such a sweet man and he's MINE :)
This is from my second ultrasound. It's special to me because it was the first time I saw Zoë move. She was rocking back and forth and her little feet were bobbing around. So, so sweet!
Holding my sweet pea for the very first time. She snuggled with me. Agh I love her so much I feel my heart bursting!
Let me tell you just how mad I am this picture came out fuzzy. Seriously. Because that precious grin, oh that precious grin! All mine (and her dad's) :)
So I cheated on a few of the answers. I just couldn't pick one :)
How about you? What are your favorites?