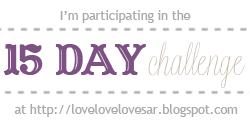 [Day 14]: If you were only allowed to watch one movie for the rest of your life, what would it be and why?
Well...I would have to say Father of the Bride, Part II.
Why?
Because I love Steve Martin and Martin Short. And they make for many laughable moments in that film. Plus, it's just a heart warming movie. And I especially relate to it now that I have my own little one. I even find it funny how my husband noted the actress who played the daughter had likely never been pregnant because of the way she moves, sits, etc. throughout the movie as she "grows" and Diane Keaton had. Funny observation but only half of it is true. I found the info to confirm that on this and this page.