Man, oh man, does the sky
sound like it's about to fall out. And my husband, who is driving home from work, say it looks it too. I'm ok with that. I'm all holed up in my own little part of the world finally listening to silence for what feels like the first time today. Well, silence from within these four walls.
Teething is not for the weak or faint of heart. Neither is deciphering baby's cries, for that matter.
Words! Just use words, little Zoë!
*sigh*
I wish, but I digress.
On to five question friday :)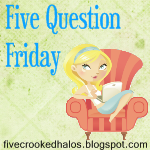 [1] What do you call them: flip flops, sandals, thongs, or slippers?
HA! Really? Here is exactly what went through my head when I read this:
First off, they are flip flops. You know, those oh so comfy shoes that are great for the beach, lake, canoeing, or just an easy slip-on during the summer.
Sandals are an open-toed shoe that may or may not be slip on but they generally don't have that plastic piece between your toes like flip flops. Unless, they are cool like chacos :)
Thongs - ummm skimpy underwear with...yeah never mind ;)
Slippers are shoes you wear once up in the morning or before bed.
[2] Are you a "my kids can do no wrong" kind of mom or a "Johnny punched you? Well, what did you do to him first?!" kind of mom?
Well, I'm taking a gander at this one considering my only child is only 4 months old, BUT I would have to say the latter. Here is why: I have cared for kids a lot in my teens and early twenties. And I mean a lot. I babysat regularly for two to three different families, I worked at a daycare two different summers, and then you could sprinkle that with the ad lib jobs I was given. I have had my rounds with caring for all ages.
When I was dealing with "Bobby did this" situations, I typically tried to work with both parties to get them to admit to what each did wrong.
[3] Would you confront a good friend who looked/looks down at your husband/significant other?
Oooi. Tough question. I would like to say yes, but I am not one for confrontation. I do know if i felt it important enough for me to stand up for him, I would. So I guess it depends on what about him they are looking down at him for.
[4] Biggest pet peeve?
So I had to ask my hubby on this one. I have a ton of pet peeves. Seriously.
However, my biggest is definitely when people are fake. I typically can see straight through a facade and let me tell you my nerves get all worked up. I generally don't just blurt it out to the person *thank God* but I will come home and rant about it to the hubs. Sorry bud!
[5] What's my favorite take out meal?
Geez. I think this one really depends on my mood. I even asked my hubby and his response: "Well, you don't really have one...You do have a favorite pizza."
And yes, that is very true. My favorite pizza: pineapple and canadian bacon. Ham will work if they don't have canadian bacon, but the first is MUCH better.
Fried food: Cane's! Oh I love me some good ol' Cane's and a slice of their texas toast.
Healthier food: Jason's Deli Nutty Mixed-Up Salad
Gosh this is making me hungry. I digress.
Happy Friday, everyone! Here's to a wonderful weekend and hoping my little one takes her naps despite the teething process!