Wow! It's here. I can't believe I made it either. I'm hoping this will become a new norm for me: consistent blogging. Anywho, here you are: [Day 15], the final day.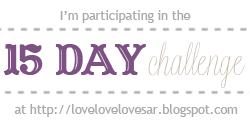 [Day 15]: What's the best compliment you've ever received?
Oh you guys have really stretched me...the best compliment?
Ummm....
I guess I'll go two ways with this: physical and character.
Both were recent, thankfully, because, otherwise, I would have no clue what to post here.
Physical: I've been told by a couple of people I have a firm butt.
Character: the doctor I worked for, his partner who worked in the same pod as us, my nurse supervisor, and the DON have all either told me I was an excellent worker who truly cared for the patients or have asked to have me back. That to me pays a huge compliment to my character, thus the best compliment towards it I have received to date.